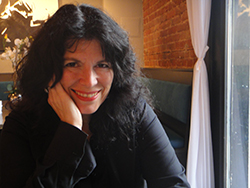 Jeannnette Perreault is a Quebec artist. Essentially, she is an autodidact, but also enrolled at Université du Québec à Montréal from 1982 to 1984 to study the visual arts, art history and drawing. She participates in numerous workshops for life drawing and introduces  herself to mixed techniques as well as to ink on paper. Her primary medium is oil on canvas.
In portraits and still lifes, she explores existential themes from an intimate point of view.  In coffeehouses in Montreal, Paris and Barcelona, she draws inspiration from the specific ambiance of each location.  With her fluid stroke, she grasps the expressions of the men and women lingering in these places.  Her drawing expresses the urge to capture the truth of the moment.  Another part of her career evolved around the stage : dancers, musicians and, especially , actors.  Since the 1990s, she draws actors from the Théâtre du Nouveau Monde (TNM) in Montreal in their dressing rooms and backstage.  This approach renders the necessity to seize emotion in a minimalist stroke that holds the essence, the soul, the sensibility of the model.  At the theatre and in the coffee shop, she 's looking for that specific gesture that characterizes individuality.  Through the expressive force of her colors she creates harmony evoking light.  She develops a plastic language by means of which thick texture and precise gesture confer an intensity, an undeniable freedom, to her works.
In the last thirty years, she presented twenty-five solo exhibitions and participated in more than seventy collective exhibitions.  Jeannette Perreault is represented by Roberts Gallery in Toronto since 1991 and, since 1992, by Valentin Gallery in Montreal.  As of 2001, she is also featured in L'Harmattan Gallery in Baie-Saint-Paul, in the province of Quebec, and in the Winchester Galleries in Victoria, British Columbia.  Her works are part of many collections in Canada, United States and in Europe.